ZenJatra Adventure comes with a vision to bring out of this world adrenaline rushing experiences to adventure seekers who want to explore unique landscapes of the land of Himalayas through state of art equipment accompanied with highly experienced and skilled team of experts.
In order to turn this vision into reality, ZenJatra Adventure has partnered with Expedition Experiences based in Florida, United States of America to bring one of the most adrenaline rushing experinces of flying by the Himalayas.
MEET OUR EXPERTS
Chris Malone
Jump master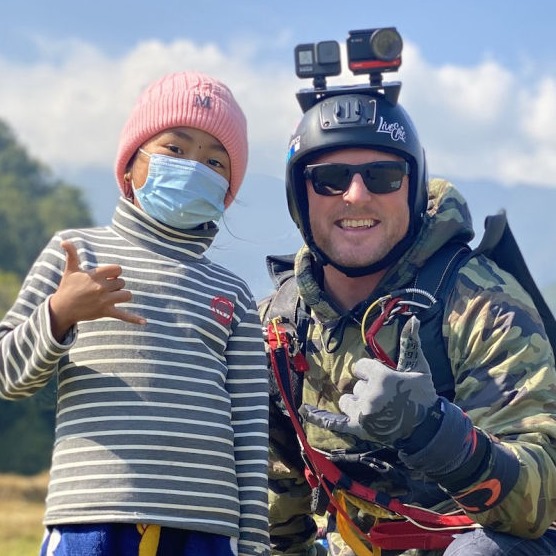 Meet Chris Malone, a retired Master Sergeant whose love for travel and adventure knows no bounds. He discovered his passion for exploring new cultures through thrilling experiences that get the adrenaline pumping. Now, he's on a mission to share these incredible journeys with fellow adventure seekers like you.
During his time as a Master Sergeant, Chris had some life-changing experiences. He was part of the team that helped local first responders during a devastating earthquake in 2015. That experience left a deep impact on him. And it didn't stop there. A trip to the breathtaking Khumbu region further ignited his inspiration to do something extraordinary.
With a newfound sense of purpose, Chris set out to bring the exhilaration of freefalling closer to the majestic Mount Everest. Drawing from his expertise in parachute demonstrations and tandem operations, he made his vision a reality. That's how Expeditionary Experience came to life – an initiative that offers once-in-a-lifetime adventures in the foothills of the Himalayas. And let me tell you, these experiences are so incredible that you'd want to relive them over and over again.
What sets Chris apart is his unwavering dedication to safety, precision, and attention to detail. He's not just an expert in his field; he's also a trusted jumpmaster who's got your back – quite literally and figuratively – when you take that daring leap from tens of thousands of feet above the ground.
So, if you're looking for an adventure of a lifetime, join Chris Malone's Expeditionary Experience and dive into the wonders of the Himalayas. You're in for an unforgettable journey filled with heart-pounding excitement and memories that will stay with you forever.